Swift Justice for a Crash is No Accident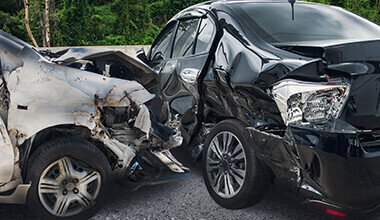 Car accidents can happen in a split-second, but have long-lasting consequences. Victims are often unsure of what to do after a crash. One of the first steps you should take is to contact an experienced South Florida car accident lawyer.Recovering the full amount of compensation you deserve can be difficult. You shouldn't have to fight the insurance company alone. The respected auto accident attorneys at Weinstein Legal are passionate about helping car accident victims who have experienced severe suffering due to the negligence of others.Caring and attentive, we will take the time to understand the details of your case and use this knowledge to fight for the damages you deserve.Contact us online now or call our Fort Lauderdale law firm at 954-845-0505 to schedule a free consultation.
TYPES OF NEGLIGENCE BEHIND THE WHEEL
Negligence is the most common cause of an automotive accident. What is negligence? A driver is considered negligent if they drove in a manner that falls below the standards of behavior a responsible driver usually takes under the same set of circumstances. Unfortunately, a negligent driver can and usually does cause harm or injury to another person.
Some forms of negligence can include:
Drinking and driving
Speeding
Reckless driving
Texting and driving
Auto manufacturer defects
Failing to check a blind spot
Drowsy driving
Improper turns
Road rage
Distracted driving
From cell phones to makeup application to eating, a variety of distractions can lead to deadly accidents.In some cases, vehicular negligence has little to do with the driver's behavior. Instead, defective vehicle parts may be to blame. Common examples include faulty ignition switches, running boards, brakes, and aftermarket car parts.
Car Accident Injuries in Florida
Even an auto accident that appears minor can cause injuries. Based on data from the
Florida Department of Highway Safety & Motor Vehicles
, more than 243,000 people were injured in car crashes in 2015. The number of auto accidents that caused injuries grew by nearly 7% between 2014 and 2015.
Some accident injuries a person may suffer include:
Concussion
Damage to the spinal cord
Herniated disc
Back injuries
Broken bones
Scrapes and cuts
Burns
Sprains/strains
Car crash victims can experience years of physical and emotional suffering. Additionally, they are forced to deal with several financial stressors, including medical bills and loss of work due to physical injuries. In such cases, it is in the victim's best interest to seek help from an auto accident attorney in South Florida with a track record of success.
Recovering Damages for Auto Accidents in South Florida
There are two main types of damages victims of car wrecks may be entitled to, compensatory and punitive. Compensatory damages, also known as monetary damages, are the most common form of damages in a personal injury claim.Compensatory damages can include:
Property damage
Current and future medical bills
Lost wages
Emotional duress
Loss of future earnings potential
Loss of enjoyment of life
Punitive damages are rare in auto accident cases, but may be available if the vehicle manufacturer is to blame. These types of damages are awarded to punish the at-fault party for outrageous negligence or illegal activities that led to the crash.
Florida Statute of Limitations
Under Florida Law, auto accident victims have four years from the date of the accident to file a personal injury claim. If you believe you may be entitled to file a claim, time is of the essence. Contact South Florida car accident lawyer Justin Weinstein to schedule a consultation and discuss the details of your claim.
Contact us
online now or call
954-845-0505
.
PIP Insurance Claims
Florida is a no-fault state, which means drivers must have a minimum of $10,000 in personal injury protection (PIP) insurance and $10,000 in property damage liability. The PIP requirements allow victims to recover compensation after an accident no matter who is at fault for the collision.The insurance coverage should benefit the policyholder, relatives who reside in the same household, the person operating the vehicle at the time of the crash, any passengers in the vehicle, and any others involved in the car accident.Unfortunately, the insurance claims process can be tricky. Furthermore, insurance companies sometimes diminish the worth of your claim and may attempt to pay you or other victims as little as possible. Justin Weinstein is an experienced
Personal Injury Protection claims attorney
and can help you get the maximum amount of compensation you are owed under your insurance.
Helping Secure the Compensation You Deserve
If you or a loved one has fallen victim to somebody else's negligence behind the wheel, it is imperative that you get in touch with an auto accident attorney as soon as possible. The right car accident lawyer can guide you through the entirety of the personal injury process. Consider working with the attorneys at Weinstein Legal, who will work hard to secure the damages you need during this difficult time.
Schedule A Free Consultation
Weinstein Legal's
personal injury lawyers
understand that car accidents can happen at any time and anywhere, which is why we are always available to take your call. We take cases throughout South Florida and the Treasure Coast through our Fort Lauderdale office.
Contact Us Today