Driving Under the Influence (DUI) Charges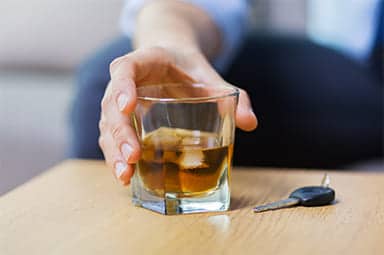 When you are arrested for drunk driving, you could face hefty fines, license suspension, and jail time, even if it is your first offense. The decisions you make immediately after your arrest will determine whether or not you get a DUI conviction and the severity of your penalty. You only have TEN days from the date of your DUI arrest to appeal the suspension of your driver's license. This means that the first thing you should do is contact a DUI lawyer.
As a former prosecutor with years of experience, DUI attorney Matt Shafran will aggressively fight for your rights. He will stop at nothing to get the best outcome possible for you. When your driving privileges and future are on the line, there's no time to waste. Call drunk driving defense attorney Matt Shafran at 561-931-6687 right away.
How to Hire a DUI lawyer
We know how stressful it can be when you are arrested and facing DUI/DWI charges. You don't have to go at it alone. But beware, not every criminal defense lawyer is an experienced DUI lawyer. At Weinstein Legal, we're here to help with the necessary training and experience to fight your DUI case.
We understand your situation and are ready to mount an aggressive defense to get the best result possible. When he was a prosecutor, Partner Matt Shafran used to make decisions on how to file and if the State of Florida should file criminal charges for DUI and related offenses.
Penalties for DUI Charges
Drunk driving is a serious crime, and Florida law treats it as such. The crime is known as a DUI (driving under the influence) but is sometimes called a DWI (driving while intoxicated). While these names are often used interchangeably, the official term in Florida is DUI.
A first time DUI charge, with no enhanced breath or blood level, and that did not involve a crash, may incur one or more of the following penalties:
more than 6 months maximum jail time
$500 to $1000 fine
6-12 months probation
50 hours of community service
DUI school and treatment
10 day vehicle immobilization/car impoundment
Ignition interlock device
6-12 months driver's license suspension
As the charge gets more serious, so do the penalties. If you have prior DUI convictions, you are considered a multiple offender. The fine amount goes up considerably, and jail time could be as much as 9 months or more, depending on your blood alcohol level and number of offenses. You may also receive mandatory probation and the suspension of your license.
If your blood alcohol level is higher than .15, you will have to install an ignition interlock on any car you drive for six months. An ignition interlock is attached to your car's starter. You must blow into the device to make sure that there is no alcohol on your breath before starting the vehicle. The car won't start if the device detects alcohol. In addition, you must pay an installation fee and monthly fee while the device is on your car.
If you are convicted of two DUIs within a 5 year period, it's a MANDATORY suspension of your driver's license for five years, and your car will be impounded for an enhanced period of time. Additionally, there is mandatory jail time, however, sometimes an experienced defense attorney can negotiate inpatient treatment in lieu of jail. You can get up to a year in jail, depending on your blood alcohol level at the time of your arrest and other factors.
A third DUI is an extremely serious charge and you can be charged with a misdemeanor or even a felony after your third or subsequent arrest for DUI. If you have four DUI's, you are likely going to be charged with a felony no matter how much time has lapsed between charges. You may incur fines up to $5,000 and five years of jail time. And your driver's license will be permanently revoked if convicted. These are just some of the severe consequences of felony DUI charges.
Types of DUI/DWI Charges in Florida
Florida has many types of DUI categories charges. The type of DUI charge depends on different factors, such as:
If you have a prior DUI offense
Your blood alcohol level
The length of time between any prior DUI arrest dates and conviction dates
If someone was killed or injured during the incident
If there was property damage resulting from the incident
Once these factors are taken into consideration, the State will bring the corresponding charge against you. DUI/DWI charges fall into these general categories:
First Time DUI
Multiple DUI
Felony DUI
DUI/DWI with Serious Bodily Injury
Aggravated DUI
Drug DUI/DUI with Drugs
DUI with Property Damage
DUI Manslaughter
Commercial Vehicle DUI/CDL DUI
DUI under the Age of 21/Zero Tolerance
BUI/Boating under the Influence
Know Your Criminal Defense Options
When we take your case, our team will explore all your defense options. We will thoroughly investigate the circumstances of your DUI arrest to determine if:
The police had probable cause to stop you in the first place
A field sobriety test was administered correctly
The breath test equipment was properly calibrated and on a regular maintenance schedule
Factors such as prescription drugs or health problems like diabetes affect your driving behavior
The information found during these investigations could make the difference between a dismissal or reduced charges and conviction. Our team is well versed in the complexity of DUI/DWI and felony DUI defense. We know how to present a convincing case or make the best plea deal possible for your unique circumstances.
SCHEDULE A FREE CONSULTATION
Getting arrested for DUI is emotional, stressful, and overwhelming. With office locations in Fort Lauderdale and West Palm Beach, DUI criminal attorney Matt Shafran and Weinstein Legal's DUI defense team are prepared to mount an aggressive defense to protect your freedom and your future.
Fill out our contact form or call 561-931-6687. The Weinstein Legal team is available 24/7, serving all of South Florida, including Palm Beach, Broward and Miami-Dade counties and will always take your call.