National Multiple Sclerosis Society Fundraiser
Last Updated: April 29th, 2022 at 9:21 pm
Read Time: 2 Minutes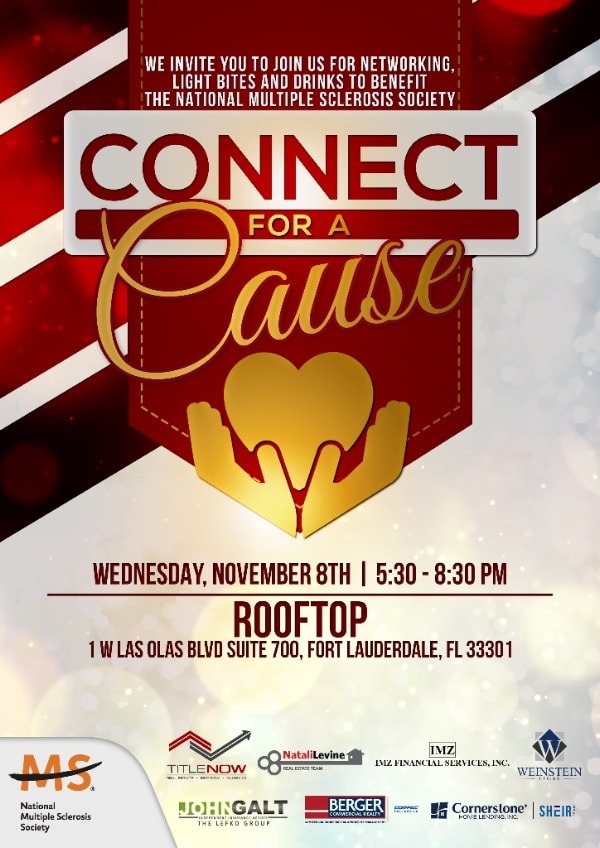 Connect for a Cause is thrilled to announce that our November 2017 event will benefit the National Multiple Sclerosis Society. The November event will take place November 8, 2017 at the new Rooftop Lounge on Las Olas. We invite you to join us for networking, light bites, raffles, and more to benefit this worthy cause.
Connect for a Cause was founded in 2017 with a collective purpose of bringing together high achieving and driven professionals who have a passion for giving back to our community and beyond. Join us at our monthly networking event to give back and network with like-minded professionals.
About National Multiple Sclerosis Society
The National Multiple Sclerosis Society has a simple mission – to create a world free of MS by stopping it in its tracks, and restoring what has been lost to those affected. Not only does this incredible organization work to expand investments and worldwide collaboration in order to accelerate research on multiple sclerosis, but they take every opportunity to build pathways with government, communities, and the private sector so people with MS can receive the help they need.
To learn more about the incredible work National Multiple Sclerosis Society does to benefit those living with this life-altering disease, visit www.nationalmssociety.org, and join us to support this organization on November 8, 2017.
Photos from the National Multiple Sclerosis Society Fundraiser
Thanks to all of you who showed up to support the National Multiple Sclerosis Society! We're so proud to help contribute!