Compensation For Your Airbag Injuries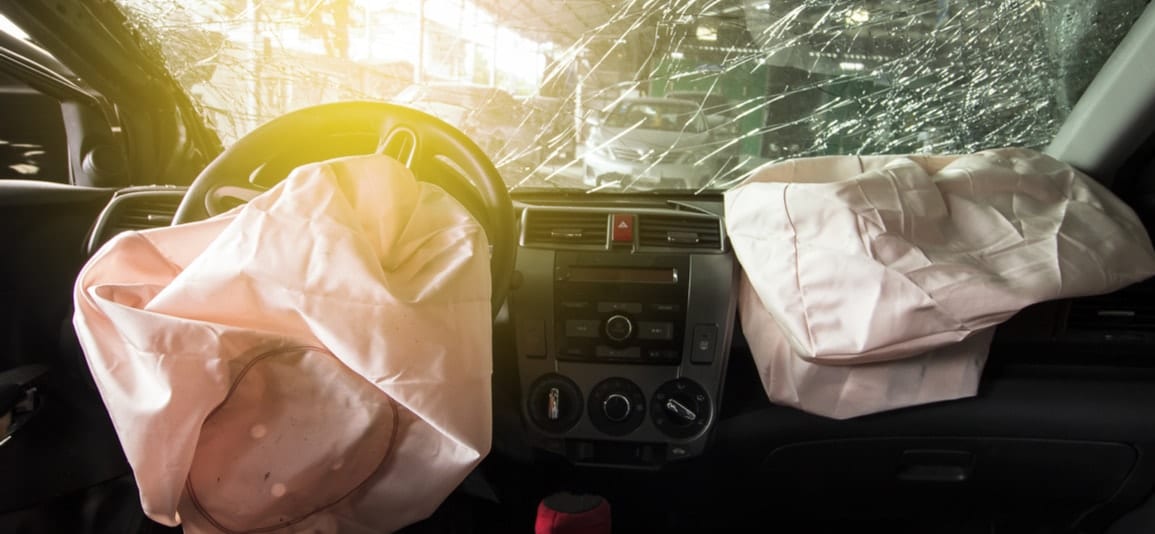 In 1966, Congress required automakers to place seat belts in every car they built. By 1998, the law required all cars and trucks sold in the United States to have airbags on both sides of the front seat. This legislation was intended to help keep motorists – and their passengers – safe. But, what about when airbags are doing more harm than good?
Airbags were developed for our safety and protection, but they can also be responsible for severe and sometimes immobilizing injuries, including whiplash, burns, traumatic brain injuries, and trauma to the spine. While airbag injuries do not occur as often as auto accident injuries, airbag injuries are typically indicative of extensive damage.
If you or someone you know recently suffered an airbag injury, reach out to a respected personal injury lawyer at  Weinstein legal. Justin and the team at Weinstein Legal will do everything in their power to ensure that you secure the damages you deserve.
Contact us online now or call 954-845-0505 to schedule a free consultation.
What Causes Airbag Injuries?
Of course, the most obvious cause of an airbag injury is being involved in an auto accident that triggered your automobile's crash sensor. Unfortunately, airbags can and do deploy incorrectly. This is typically caused by a malfunction of the crash sensor.
Some forms of incorrect deployment include:
The airbag deployed too late
One airbag deployed and the other did not
The crash sensor failed to deploy the airbags at all
The airbags deployed in a low-impact crash
The sensor failed and deployed the airbags without the presence of a crash
The timing of deployment is crucial. When airbags deploy even a second too late, the passenger or driver's head is now too close to the airbag. The momentum the airbag carries during impact causes serious injuries and can be fatal in some cases.
Common Types of Airbag Injuries
Due to the high velocity of an airbag in deployment as well as the multitude of body parts exposed to its force, it is possible for many types of injuries to occur.
Some injuries a person may suffer include:
Abrasions and Contusions:
Abrasion to the face, chest, or upper extremities
Contusion of the face, chest, upper extremities, knees, or internal organs
Fractures and Trauma:
Strain, fracture, or blunt trauma to the cervical spine
Fracture or break in the face, upper extremities, or wrists
Fracture of the skull or rib cage
Wrist trauma and sprained fingers
Burns and Skin Irritations:
Irritation of the skin (also called airbag dermatitis)
Burns on the chest, upper extremities, or hands
Internal Injuries:
Laceration to the veins, arteries, heart, or lungs
Laceration to the liver or spleen
Rupture inside the heart muscle
Trauma to the fetus of a pregnant woman or puncture in the placenta
Internal bleeding
Irritation of the throat, asthma attack, or coughing
Brain Injuries:
Laceration to the brain stem
Compression of the brain or traumatic brain injury (TBI)
Loss of consciousness or concussion injuries
Bruising or swelling of the brain
Sensory Loss:
Eye injuries such as rupture to the globe, retinal tear, corneal abrasion, or conjunctivitis
Hearing loss or ear trauma
What Should I Do if I've Suffered Airbag Injuries?
In the case of airbag injuries, the most important thing you can do is preserve as much evidence as possible. This includes parts of the airbag as well as the car itself. If you turn your car into the insurance company because it's been declared as totaled, the computer of the car could be wiped clean as part of the totaling process. If you believe your injuries were sustained due to accidental or faulty airbag deployment, a lot can be learned from your vehicle itself.
Secondly, hire a trusted attorney to fight your case. In many cases, vehicle manufacturers may be involved and due to the extensive testing performed on these safety devices, it is important to have a knowledgeable personal injury attorney on your team. Consider working with our team at Weinstein Legal, who will work hard to secure the damages you need during this difficult time.
Recovering Damages
There are two main types of damages victims of airbag injuries may be entitled to, which are compensatory and punitive. Compensatory damages, also known as monetary damages, are the most common form of damages in a personal injury claim.
Compensatory damages can include:
Property damage
Current and future medical bills
Lost wages
Emotional duress
Loss of future earnings potential
Loss of enjoyment of life
Punitive damages may be available if the vehicle manufacturer is to blame for the malfunctioning airbag. These types of damages are awarded to punish the at-fault party for outrageous negligence or illegal activities that led to the injuries.
Schedule a Free Consultation Today With Our Auto Accident Attorneys
The team at Weinstein Legal understands that accidents can occur at any time and anywhere, which is why we are always available to take your call. Our dedicated car accident lawyers take cases throughout South & Central Florida and the Treasure Coast. Contact us today.