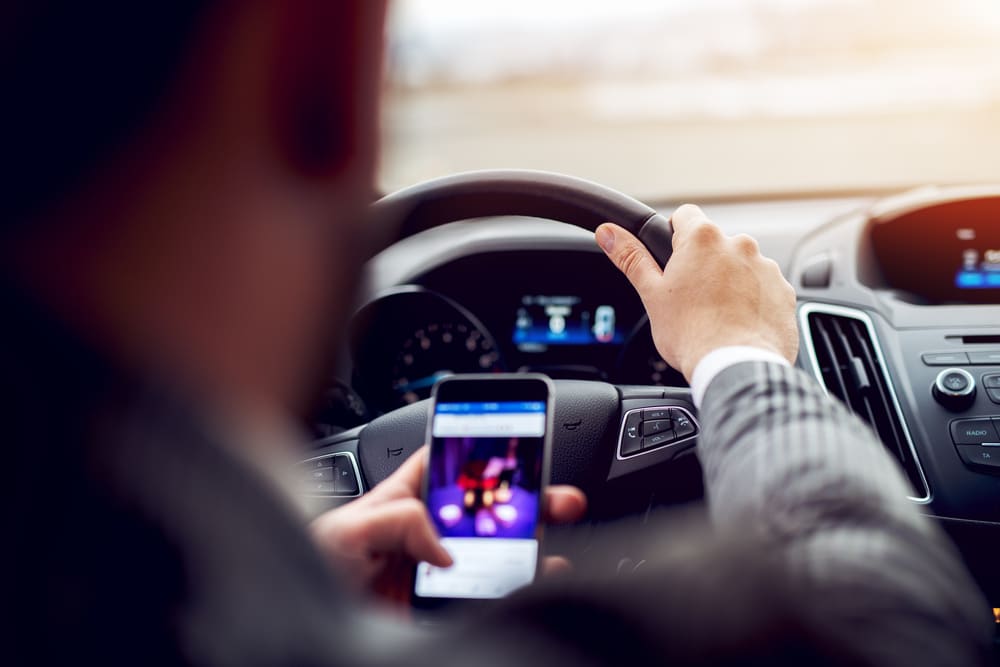 If you or a loved one suffer a car accident injury as the result of another driver's negligence, speak with a distracted driving car accident lawyer as soon as possible to build a case and file for compensation for your injuries. Unfortunately, there are countless auto accidents that occur each year due to distracted driving, amounting to millions of dollars in medical bills, and lost wages for those affected. Don't bear the financial burden of another driver's reckless behavior. It may be possible to hold them liable for your injuries and to receive a cash settlement, but you must act quickly.
Contact distracted driving accident lawyer Justin Weinstein, the partner at the law firm Weinstein Legal. Mr. Weinstein has years of experience representing personal injury victims throughout Palm Beach and Broward County and is here to help you maximize your settlement. Don't settle for low offers from insurance companies before speaking with an attorney; your case may be worth more than you realize.
For a free and confidential case evaluation and to see how much your personal injury claim due to distracted driving may be worth, call Weinstein Legal and ask for Justin Weinstein today. All of our case evaluations come with no obligation, and our phones are open around the clock every day of the year, so no call for help will ever go unanswered.
When you need a distracted driving car accident lawyer, call Weinstein Legal (954) 845-0505.
"I realized that in certain car accidents you cant just have a lawyer. You need a lawyer who is a lawyer, negotiator, adjuster, friend and confidante. That is very hard to do and not all lawyers are willing to wear multiple hats. Thank you Justin!" – K.S. – Prior Client
Establishing Liability for a Distracted Driving Accident
The state of Florida follows "no-fault" insurance laws in regard to accidents and liability, and injured parties may only sue the other driver for negligence under certain circumstances. You must prove that the other driver acted recklessly or with negligence and that they are, in fact, responsible for your injuries and should bear the cost.
Florida's definition of "serious bodily injury" is somewhat vague and leaves room for interpretation. For this reason, it's imperative that you speak with a distracted driving accident lawyer such as Justin Weinstein as soon as possible to begin building your case. In the state of Florida, "serious bodily injury" encompasses the following scenarios:
You suffer a permanent injury
You suffer significant and permanent scarring or disfigurement
You suffer significant and permanent loss of a bodily function
Then, to establish negligence on behalf of the other driver, you must be able to prove that they acted in a manner that endangered your safety, caused your injury, and was not in line with how any other reasonable driver on the road could have been expected to behave. Often, distracted driving falls into this category of negligence. However, you need an aggressive car accident lawyer in Florida to fight for your rights.
The Types of Distracted Driving
There are three main types of distracted driving, yet many different actions that can fit into each category. The three types of distracted driving are:
Visual: When you take your eyes off the road.
Manual: When you take your hands off the steering wheel.
Cognitive: When you take your mind off driving.
Distractions can be external, or outside of the vehicle, such as flashing lights up ahead or something on the side of the road that catches a driver's attention. Or, they may be internal, or inside of the vehicle, such as a conversation with passengers. Still, cognitive distractions can take place in your own mind, such as getting lost in thought, daydreaming, or excessive fatigue. The reality is that each of these distractions is equally dangerous and puts others at risk.
Common examples of activities that constitute distracted driving include:
Using a cellphone for texting, voice calls, or any other purpose
Using a GPS system while driving
Eating or drinking
Reading a map
Holding a conversation with passengers
Adjusting the car stereo or focusing on any other knobs or buttons in the vehicle
Smoking
Looking through a purse or bag
Caring for a child
Applying makeup or grooming
Reading passing billboards
Using a Bluetooth device
And more
Anything that diverts or takes a driver's attention away from the road in any sense may qualify as distracted driving.
How a Distracted Driving Injury Lawyer Can Help
Due to Florida's no-fault insurance laws, it may be challenging to secure a personal injury settlement following an accident on your own. For this reason, it is essential that you seek the assistance of an experienced distracted driving car accident lawyer to increase your chances of receiving a positive outcome. Hiring a car accident injury attorney can benefit your case in several ways.
First, the team at Weinstein Legal has access to a wide range of professionals who can strengthen the facts surrounding your case. From crash scene investigators and private investigators to medical experts who can provide testimony on the extent of your injuries, each of these individuals plays a crucial role in bolstering your claim. Investigators may obtain video surveillance footage of the accident, receive statements from eyewitnesses, and more.
Second, there are times when personal injury cases are settled out of court and other times when they process to a trial in front of a judge and jury. If your case moves forward to trial, you want an aggressive legal team fighting on your behalf each step of the way. Mr. Weinstein at Weinstein Legal has years of experience serving as a distracted driving accident lawyer throughout Florida and knows the ins and outs of the local court system.
Get Your Free Case Evaluation Today
If you suffer an injury as the result of another person's distracted driving, don't wait. Contact distracted driving car accident lawyer Justin Weinstein at Weinstein Legal today. With offices in Fort Lauderdale and West Palm Beach, Weinstein Legal serves countless residents each year. Here is the contact information for each of our South and Central Florida law offices:
When you call the team at Weinstein Legal, you'll receive a free and confidential case evaluation. Our phones are open 24-hours a day, 365-days a year, and there will never be a time that you lack access to your legal team.
The state of Florida has strict laws regarding who may file a lawsuit for distracted driving negligence, as well as limitations on how long you have to seek compensation. For the best results, it's imperative that you act quickly with the help of a diligent distracted driving accident lawyer such as Justin Weinstein.