Guidance After the Trauma of a Crash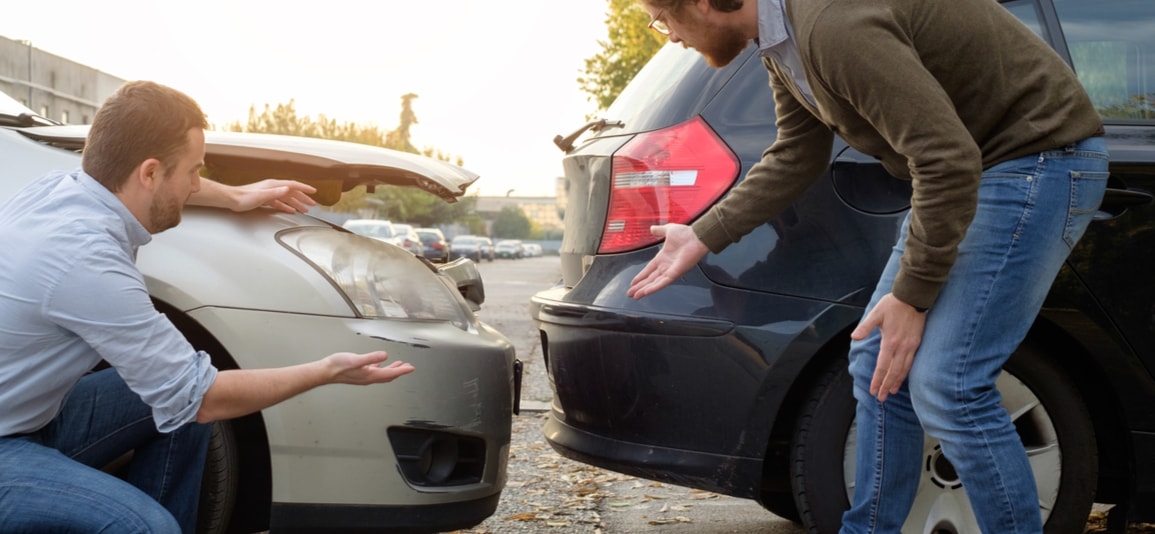 Car accidents are emotionally and physically traumatic events. Following an auto accident, victims are often unsure how to move forward. One of the first steps you should take is to contact an experienced car accident lawyer near me.
Recovering the full amount of compensation you deserve can be difficult, especially when attempting to fight an insurance company alone. A trusted auto accident attorney can walk you through each step so you can focus more on healing and less on fighting that battle. To help guide you through this process, the team at Weinstein Legal has compiled some of the most frequently asked questions about car accidents answered by our experienced personal injury lawyers.
Q: What should I do after an accident?
A: Your immediate course of action following an accident should be to ensure your health and wellness. Check for injuries and even if they're not immediately visible, visit a doctor. Injuries such as whiplash and herniated discs may be present but not instantly felt, especially as your body is experiencing a rush of adrenaline following the accident.
Once you address your injuries, dial 911 to report the accident to the police. As police, medical personnel, and roadside assistance arrive to the scene of the accident, try to attain photos of the circumstances of the accident. Items such as road conditions, traffic signs, and any damages to the vehicles should be documented. It is important to keep documentation of these factors in order to build a factual personal injury claim.
After an accident, refrain from giving a statement to the insurance company of the at-fault individual. They could use your words against you. Instead, call a qualified attorney to discuss your options. For further tips on what to do after an accident, check out our What to Do After a Car Accident Guide.
Q: Do I need to call the police after an accident?
A: Florida law dictates that all accidents must be reported to the police. Police presence is incredibly useful following a crash, as they will come to the scene and obtain insurance information from yourself and the other driver by writing a police report known as a "Driver's Exchange of Information." This accident scene report is crucial in recovering the information needed to build a personal injury case.
Q: Can anything I say to the police after a car accident be used against me?
A: Not usually. According to Florida's Accident Report Privilege, "each crash report made by a person involved in a crash and any statement made by such person to a law enforcement officer for the purpose of completing a crash report required by this section shall be without prejudice to the individual so reporting." What you say to the police should help provide them with the necessary facts of the case, not incriminate you.
Q: What should I do if an adjuster from the "at-fault" individual's insurance company calls me?
A: Always refer opposing insurance calls to your insurance company or attorney. In most scenarios, the insurance company of the at-fault individual is looking to have you agree to a settlement. Oftentimes, they attempt to do this before you've even calculated your damages. Until your attorney has given you his expert opinion, never rush to do anything the opposing insurance company tells you to do.
Q: What is meant by a "no-fault" state?
A: The fact that there is no requirement to prove fault to receive Personal Injury Protection (PIP) benefits is what makes Florida a "no-fault" state. Florida is one of 12 no-fault states operating under a true no-fault system. This means that a driver's own Personal Injury Protection (PIP) coverage, sometimes referred to as "no-fault coverage," is responsible for paying their own medical bills and rehabilitative costs when they've been injured in an auto accident, regardless of which driver was at fault.
While only 12 states operate under this no-fault system, 16 states in total require drivers to carry a minimum amount of PIP coverage. In the state of Florida, this amount is at least $10,000 of coverage. If you're in an accident in a state that does not use a no-fault system, this would be known as a tort state. In this case, the at-fault driver would be held financially responsible for your injuries instead of your PIP coverage. Find out what is considered full coverage auto insurance in Florida with our guide.
Q: What is Personal Injury Protection coverage?
A: Personal Injury Protection, often abbreviated as PIP, is a result of Florida being a "no-fault" state. By Florida law, every vehicle owner and driver is required to have $10,000 in PIP insurance coverage. In the case of an accident, PIP benefits are paid by the individual's respective insurance company. PIP insurance is also applicable during instances in which you're a passenger in someone else's car, or if you're hit by a car as a pedestrian or cyclist.
A PIP insurance plan will cover 80% of a victim's medical bills and 60% of a victim's lost wages. Whatever fees or damages are leftover after PIP coverage will need to be recovered through the at-fault party in a personal injury claim.

Contact Us for a FREE Evaluation of Your Insurance Policy

Q: What are my Property Damage rights?
A: Property Damage rights entitle you to have your car repaired to its condition prior to the accident. Or instead, you can receive fair market value for your vehicle. It is the responsibility of the opposing insurance company to do this.
Q: Should I continue driving my car?
A: No, not until you've had your vehicle inspected. Even if you only spot a few scratches, you should still have your vehicle inspected by an auto repair mechanic prior to driving the vehicle as you normally would.
Q: How do I get my car fixed?
A: Most insurance companies have separate adjusters for Property Damage (PD) claims and Personal Injury claims. Damage to your vehicle will be filed as a PD claim. To begin the process of fixing your vehicle, speak with the PD adjuster of the opposing insurance company. The adjusters will most likely already have a copy of your Accident Report, but if not, you can fax or mail a copy.
Following the adjuster's analysis of the Car Accident Report, he or she should admit the company's liability and will go ahead and make arrangements to have your car assessed. In the instance that the adjuster does not admit liability, you will need to file your own claim under your insurance policy's collision coverage. A qualified attorney can walk you through this process.
Q: Do I have to take my car to an "insurance company approved" repair shop?
A: No, this is a myth. You can have your car repaired by whichever repair center you trust the most. Once you arrive at the repair center, provide them with your claim number, the name of your adjuster, and the adjuster's phone number. The repair center will take care of the rest.
Q: What if the at-fault driver does not have insurance, or leaves the scene before I receive their information?
A: All too often we encounter auto accidents in which the individual who caused the crash has no insurance. This is why your auto insurance policy should come with Uninsured Motorist (UM) coverage. In a situation where the at-fault driver has no insurance, you'll file your claim under your UM coverage with your own insurance company. Your insurance company will process your claim through the same process as it would for an opposing insurance company, except your claim will be against your UM coverage as opposed to another driver.
Likewise, if you are involved in a hit-and-run accident, in which the individual flees the scene before exchanging any information, you will seek compensation from your UM coverage.
Q: What if the at-fault individual does not have "enough" insurance?
A: If you have a claim that is larger than the coverage provided by the at-fault driver's insurance policy, you file the remainder of your claim against your own insurance company under your Underinsured Motorist (UIM) coverage. This coverage is meant to step in when you're in an accident with an at-fault driver whose liability limits are too low to cover your damages or medical expenses.
Q: Who pays my medical expenses while my case is pending?
A: When you're injured in a car accident, your PIP coverage will cover the initial $10,000 of medical expenses, or more, if you had chosen to purchase an auto insurance policy with more coverage. Once your PIP coverage is exhausted, typically your health insurance will be the next line of payment for expenses.
Your personal injury lawyer will work to make sure both you and your health insurance company receive reimbursement for the medical costs associated with the accident. However, your attorney may also be able to recommend doctors who will treat you on a lien. Discover the compensation you may receive for your injuries with our guide to the types of personal injury damages here.
Q: What is vicarious liability?
A: In the state of Florida, vicarious liability means that even if the owner of the car was not the individual responsible for the car accident, he or she can still be held liable for the damages caused by the individual who was driving.
According to Florida law, a vehicle owner should only be lending their vehicle to responsible drivers. If the individual they lent the vehicle to proves to be negligent, the owner then also becomes negligent by default. This is important to note when pursuing a Personal Injury claim, as you can also pursue a case against the individual or company who lent the at-fault driver the vehicle as well as the driver themselves.
Q: Can I receive compensation from the employer of the driver who caused my accident injuries?
A: Yes. So long as the employee acted in their scope of employment at the time of the accident, such as making a delivery for the employer, the company will also be responsible for the accident. This theory is known as "respondeat superior," and stipulates that companies are responsible for the negligence of their employees. This theory holds true whether the employee was driving a personal vehicle or an employee vehicle, so long as the employee was still actively working or on the way to a job.
Q: What if the vehicle that caused my accident injuries was an Uber or Lyft?
A: If an Uber or Lyft driver caused your accident, the driver will most likely have been driving his or her own vehicle. This is important because Uber or Lyft drivers have to carry their own auto insurance for their vehicles. If the Uber or Lyft app was turned off, and the driver was simply getting from point A to point B, then a claim can only be filed against the driver's personal insurance. Since the driver was not technically on the job, their employer cannot be held responsible for damages they caused.
This is not the case if the Uber or Lyft app was turned on at the time of the accident. If the driver was marked as available and was waiting to pick up passengers, this would classify the driver as acting in their scope of employment at the time of the accident. In this case, both the driver's personal insurance and Uber/Lyft's contingent liability coverage can be accessed in the case of a crash. This includes up to $50,000 to $100,000 for injuries, and $25,000 for property damage.
When the Uber or Lyft app is turned on and the driver is transporting passengers, the company's commercial insurance coverage is provided. This coverage includes up to $1 million in third-party liability and $1 million in uninsured or underinsured motorist coverage. At Weinstein Legal, we have handled many Uber or Lyft accident cases. If you've suffered any injuries as a result of an Uber of Lyft accident, contact our uber car accident attorney to learn how we can fight for the compensation you deserve.
Q: What if the accident was partly my fault?
A: There are cases in which a client was not the individual who struck another vehicle, but they weren't being 100% responsible either. For instance, a victim could have been driving 5 to 10 mph over the speed limit, which in turn limited their reaction time, and borders on the victim being considered negligent.
If this is the case for your accident, this certainly does not mean you don't deserve compensation for your pain and suffering. The state of Florida follows a "pure comparative fault" system, which means that your level of negligence will not deter you from receiving compensation for your injuries. In the pure comparative fault system, a jury will decide your percentage of negligence in relation to the accident. In this case, if a jury finds that you were 70% at fault, then you will still be able to recover 30% of your damages from the other party.
Q: Can I receive compensation from my Personal Injury Protection (PIP) policy if I wasn't driving a vehicle at the time of the accident?
A: Yes. Even if you were a passenger in a vehicle that was involved in a car accident, your PIP policy will cover damages caused by that accident.
Q: What if there are multiple injured people in my accident?
A: Your Bodily Injury (BI) Policy displays two numbers, which are respectful of the amounts that can be recovered following an accident – the first being the number of damages that can be claimed per person, the second being the total paid per accident if more than one injured party is making a claim.
For example, if your bodily injury policy is $25,000/$50,000, then one injured party can recover up to $25,000, while all of the people injured in the accident can recover up to $50,000 collectively. If there are four injured people in the crash, they will be required to divide the $50,000 provided by your insurance.
Q: Can I recover compensation from the manufacturer of my own vehicle?
A: You may be able to pursue an automobile products liability case if your vehicle did not live up to its crash-resistant standard. If you experienced defective seat belts, airbags, tires, brakes, car seats, roofs, or fuel-pump systems, and automobile products liability case may be an option.
For example, if you were hurt in an accident but the fact that the airbags didn't deploy or the tires on your vehicle blew-out contributed to your injuries or made them worse, then you may have a product liability case against the designer or manufacturer of your vehicle or manufacturer of your tires. In such cases, Weinstein Legal can refer you to a products liability law firm, and work with them to pursue the maximum compensation for your claim.
Q: What kind of damages could I be entitled to?
A: If you suffered injuries due to a car accident caused by another's negligence, there are two main types of damages that you may recover. The first is compensatory damages. Compensatory damages, also known as monetary damages, are the most common form of damages in a personal injury claim.
Compensatory damages can include:
Property damage
Current and future medical bills
Lost wages
Emotional duress
Loss of future earnings potential
Loss of enjoyment of life
The second is punitive damages. Punitive damages are rare in auto accident cases but may be available if the vehicle manufacturer is to blame. These types of damages are awarded to punish the at-fault party for outrageous negligence or illegal activities that led to the crash.
Q: Do I need to have a permanent injury in order to receive compensation after a car accident?
A: Absolutely not. Following a car accident, you're pursuing compensation for your immediate damages as well as what you and your doctors can foresee medically in the future. Though an injury may require further treatment, that doesn't make it "permanent."
However, you're still entitled to compensation for damages that have accrued, such as medical bills, lost wages, and pain and suffering. Even if your injuries are not permanent, contact a qualified attorney to assist you in regaining the expenses you've lost due to your accident.
Q: Is there a statute of limitations on injuries received during a car accident?
A: Under Florida Law, auto accident victims have four years from the date of the accident to file a personal injury claim. If you believe you may be entitled to file a claim, time is of the essence. Contact Florida car accident lawyers at Weinstein legal to schedule a consultation and discuss the details of your claim. Contact our experienced personal injury lawyers today to get started.