Justice For Motorcycle Accidents Victims in Florida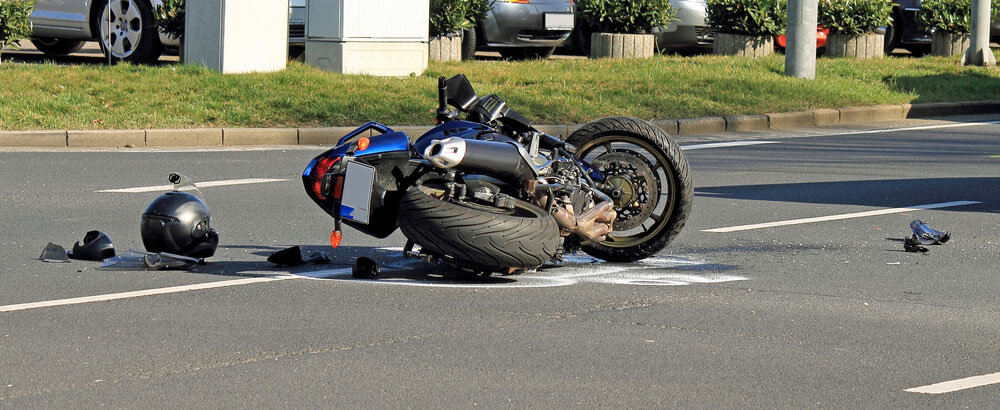 Florida's flat roads and beautiful weather make it a popular destination for motorcyclists. More than 600,000 motorcycles are registered throughout Florida, the majority of which are in the Florida and Treasure Coast areas. When a motorcycle and motor vehicle collide, the effects can be devastating. Weight differences and the limited protection riders have while on their bikes can cause debilitating injuries. Unfortunately, many bikers will suffer life-threatening injuries that can change their entire life.
If you or someone you know has been hurt in a motorcycle accident caused by a negligent driver, you may be entitled to compensation.
CONTACT OUR MOTORCYCLE ACCIDENT LAWYERS
Weinstein Legal's motorcycle accident attorneys near you will review the details of your claim and work to help you recover compensation for your losses. Fill out our contact form for a free review of your motorcycle accident claim.
What Types of Motorcycle Vehicles Are in Florida?
Florida is home to thousands of miles of highway, making it the ideal destination for motorcycle vehicles of all types. However, not all of these motorcycles are built the same – some are meant to travel longer distances, some are meant to reach higher speeds, and some are even meant to haul luggage.
To differentiate between the various types of motorcycle vehicles on the road, the Highway Loss Data Institute developed a system that groups street-legal motorcycles into 8 different classes.
8 Street-Legal Motorcycles include:
Cruiser: The largest class of motorcycles. A similar style of bikes from the 1930s to 1960s, such as Harley-Davidsons and Indians.
Standard: Feature an upright riding position and basic designs. A low power-to-weight ratio makes this motorcycle user-friendly.
Supersport: Consumer versions of racing motorcycles. Feature reduced weight and increased power to allow for maximum acceleration and speeds.
Sport: Similar to Supersports, but have a lower power-to-weight ratio that results in lesser acceleration.
Unclad Sport: Similar to sports and Supersports in design, but are made without windscreens and plastic body fairings.
Sport-Touring: Feature the largest engines in the sport class and are typically heavier and equipped with touring features such as larger seats and saddlebags.
Touring: Designed for longer travel. Typically are equipped with larger engines and fuel tanks, plus room to haul luggage.
Scooters: Sometimes referred to as mopeds, scooters have smaller wheels and engines as well as automatic transmissions.
The level of devastation caused by a motorcycle accident can be influenced by the type of motorcycle driven. For instance, supersport motorcycles make up a small fraction of registered motorcycles but compose a large majority of fatal crashes. The Insurance Institute for Highway Safety (IIHS) found that the driver death rate per 10,000 registered supersport motorcycles was about 4 times as high as the rate for motorcyclists who rode cruisers or standards. The driver death rate for sport motorcycles was about twice as high as the rate for drivers of cruisers or standards.
Injuries Caused By Motorcycle Accidents In Florida
Based on the Florida Department of Highway Safety & Motor Vehicles, the number of motorcycle crashes in the state increased by 3.5% between 2014 and 2015. Nearly 8,000 people suffered motorcycle accident injuries throughout Florida in 2017.
Some of the most common injuries during a motorcycle crash include:
Traumatic brain injury
Concussion
Broken bones
Road rash
Spinal cord injuries
Cuts and scrapes
Facial and/or dental damage
Whiplash
The number of motorcycle fatalities increased by 27%, while motorcycle passenger fatalities increased by 72% between 2014 and 2015. These numbers reveal just how dangerous motorcycle accidents can be.
A motorcycle injury attorney at Weinstein Legal is ready to help you if you or a loved one has been hurt in a motorcycle crash. We understand how serious these types of accidents can be, and are dedicated to helping clients recover the maximum amount of compensation.
Helmets and Head Injuries
In both fatal and non-fatal motorcycle accidents, a head injury can pose the most risk to a victim. For this reason, the federal government suggests all riders wear a helmet, estimating that helmets are 67 percent effective in preventing brain injuries and reduce the risk of dying in a crash by 37 percent.
However, in the state of Florida, wearing a helmet is not mandated by law. In fact, Florida repealed its universal helmet law in 2000, allowing all riders over the age of 21 to opt-out of helmet use so long as they carry medical insurance of at least $10,000. By 2008, crashes and injuries in Florida nearly doubled. The number of fatal crashes for every 10,000 registered motorcycles increased by 21 percent. Moreover, hospital admissions of crash victims with injuries to the head, brain, and skull increased by 82 percent.
Because of the unprotected nature of motorcycles, riders can suffer severe or even deadly head injuries even in collisions that may have only caused minor injuries for drivers of larger vehicles. Motorcyclists who do not wear helmets are more likely to suffer traumatic brain injuries, incurring median hospital charges that are 13 times higher than those without such injuries. According to the Governors Highway Safety Association (GHSA), if all motorcycle accident victims in deadly crashes in 2016 had worn helmets, an estimated 802 lives could have been saved.
Fill out our contact form or call 954-845-0505 to start your free consultation.
Common Causes of Motorcycle Accidents in Florida
The negligent actions of another driver are what most often cause motorcycle collisions.
Some common causes of a crash include:
Texting and driving
Failing to see a motorcyclist
Failing to yield
Tailgating
Distracted driving
Driving while under the influence of drugs or alcohol
Speeding
It may be difficult for injured riders to recover compensation after an accident, so it is important to consult with an experienced and knowledgeable Florida motorcycle accident lawyer. Contact Weinstein Legal online now or call 954-845-0505.
Steps to Take After a Motorcycle Accident in Florida
The immediate hours after a motorcycle accident are critical to both your physical and financial recovery. Here are some of the steps you can take to ensure your safety and to help your legal case.
1. Get to a Place of Safety
Unless you were thrown completely from the roadway, you're not safe. Other drivers may not see you or the motorcycle, and you could be exposed to a second accident. Try to move to a position of safety if you're not able to.
2. Call 911
Don't assume someone else has called the police. Call 911. Remain calm and tell the dispatcher your location, injury types, and the description of other vehicles involved.
3. Talk to Witnesses
Witnesses will usually leave as long as you seem coherent and likely to survive. Try to get them to stay until the police can arrive. If not, take down their information or ask them to take a photograph of their driver's license so you have their information.
4. Use Your Phone to Take Pictures
It will be much easier for your attorney to reconstruct the accident if they have photographic documentation of the scene. From a safe vantage point, take images of your injuries, damage to other vehicles, your motorcycle, damage to your helmet or clothing, locational indicators, etc.
5. Get Medical Attention
Allow EMTs to examine you on scene. If they want to transport you, allow them to take you to the emergency room. If not, follow up with your doctor as soon as possible.
6. Talk to an Attorney
It's never too soon to involve an experienced motorcycle accident attorney in your case. Before you accept an inadequate settlement offer from an insurance company, talk to a lawyer about your claim. Once you sign a waiver of liability, you won't be able to seek additional compensation.
Can I Sue after a Motorcycle Accident?
Under Florida Law, you can pursue damages through the civil courts over a motorcycle accident as long as you bring the action within four years of the date of the crash. Most accidents are settled through negotiations, though. In some instances, the plaintiff and defendant can't agree on the settlement amount, and litigation is the only option.
What to Know About Motorcycle Personal Injury Claims in Florida
Like all personal injury claims, motorcycle accidents depend on a number of factors, including:
The extent of the injuries
Whether another party caused the accident
Whether the rider was using protective gear and a DOT-approved helmet
The types of insurance coverage that the rider carries
Other conditions that may have affected the rider's ability to avoid the accident like road hazards, signage, and inclement weather
The fact of the matter is that operating a motorcycle is much more dangerous than driving a car. Motorcyclists don't have the protective shell of a vehicle, nor do they have protective gear, like safety belts and airbags. Bikers are almost always thrown clear of the crash, which means a secondary impact with the roadway. All of these variables can impact the amount of damages you receive from a Florida motorcycle accident claim. Additionally, because of Florida's comparative negligence law, your liability claim can be reduced if you were partially at fault. For example, if the police determined your excessive speed contributed to the severity of the accident, it can adversely affect your claim.
Reasons to File a Motorcycle Accident Claim
If you are uncertain whether you should file a claim, you should speak with an experienced motorcycle accident attorney. An accident claim can help you recover damages for your medical bills, lost wages, property damage, and your pain and suffering. If you're uncertain whether your motorcycle accident is actionable or worth the trouble, talk to a personal injury attorney.
At Weinstein Legal, all consultations are free, and you never have to pay out of pocket for top-tier legal representation. If you have injuries from a motorcycle accident, you should consider filing a claim.
Why You Need a Motorcycle Accident Attorney
Personal injury cases are extremely complicated. An experienced motorcycle accident lawyer can retrieve your medical records, collect police reports, depose witnesses, and negotiate on your behalf. Most accident victims have no idea how much work is involved in getting a full and fair settlement, which is why they need representation. At Weinstein Legal, our personal injury attorneys work on a contingency basis. We only collect fees if we reach a settlement or win in litigation.
Motorcycle Accident Damages
Seeking damages after a motorcycle accident can be difficult as an insurance company may diminish your claim or minimize your injuries to offer you the least amount of compensation you are owed.
After suffering a motorcycle accident, the team at Weinstein Legal can fight for your compensation for damages such as:
Past, current, and future medical bills
Home healthcare expenses
Rehabilitative therapy
Loss of enjoyment of life
Mental anguish and emotional distress
Pain and suffering
Loss of future earning potential
Lost wages
In the case of wrongful death, your attorney can also fight for funeral costs, loss of partnership, loss of benefits, and the loss of a victim's future earnings.
A skilled Florida motorcycle injury lawyer of Weinstein Legal can help you recover compensatory damages after your crash. These damages may include medical expenses, current and future wages due to lost time at work, property damage costs, and compensation for your mental anguish.
Although punitive damages are not common, after a motorcycle accident that led to catastrophic injuries or wrongful death, these types of damages may be sought. Punitive damages serve to punish the defendant and may be awarded in certain cases.
Motorcycle Accident Liability in Florida
Florida is one of the few states that doesn't require motorcyclists to carry much insurance. For example, personal injury protection (PIP) is not mandated for motorcycle riders. Rather than carrying any specific coverage, Florida motorcyclists are required to meet a financial threshold in case of injuries. The State of Florida provides guidelines that can be used to determine the amount of coverage you need: 1) $10,000.00 for one person bodily injury; 2) $20,000.00 for two or more people bodily injury; 3) $10,000.00 per crash in property damage liability.
In order to recover compensation from the at-fault party's insurance company, liability must be determined.
As motorcycles are expected to follow the same rules of the road as four-wheel vehicles, negligence must be proven through establishing the same requirements as used in auto accidents:
The victim was owed a duty of care by the defendant
The defendant somehow breached that duty
The breach caused the plaintiff's injuries
It resulted in damages
Determining liability in a motorcycle accident can be an incredibly complex matter, especially since many four-wheel vehicle drivers may not respect the rights of motorcyclists sharing the road. At Weinstein Legal, our trusted motorcycle accident attorneys near you will conduct a full investigation to prove that the at-fault driver is found liable for your damages.
Recent Florida Motorcycle Accident Statistics
Following a sudden spike in 2008, the rate of motorcycle accidents in the United States has experienced an annual increase. Unfortunately, the state of Florida is at the forefront of this trend. Each year, Florida continuously leads the entire nation in the total number of motorcycle deaths and injuries reported.
While Florida's population of 21 million people is barely 7 percent of the nation's total population, nearly 12 percent of all motorcycle accidents in the country occurred within Florida's state limits. Florida counties specifically are leading the state for the most annual motorcycle crashes.
In 2017, Miami-Dade County experienced 1,127 total motorcycle crashes that resulted in 64 fatalities and 896 injuries. Broward County ranked second in Florida for the most motorcycle crashes, with a total of 736 motorcycle accidents, 33 fatalities, and 607 injuries.
How an Experienced Motorcycle Injury Attorney Near You Can Help
Pursuing a claim with the help of a skilled motorcycle accident lawyer near you may help you recover the maximum amount of compensation you are entitled to. With office locations in Orlando, Fort Lauderdale, and West Palm Beach, Weinstein Legal's personal injury attorney can help you by collecting the accident and police reports, speaking with witnesses on your behalf, reviewing your medical records, serving as a liaison between insurance companies, and investigating the full details of your accident.
Don't hesitate to contact our experienced motorcycle accident attorney near you at these three locations:
Florida law only gives accident victims a limited amount of time to file a claim, so call now.