The Safety of Customers Should Always Come First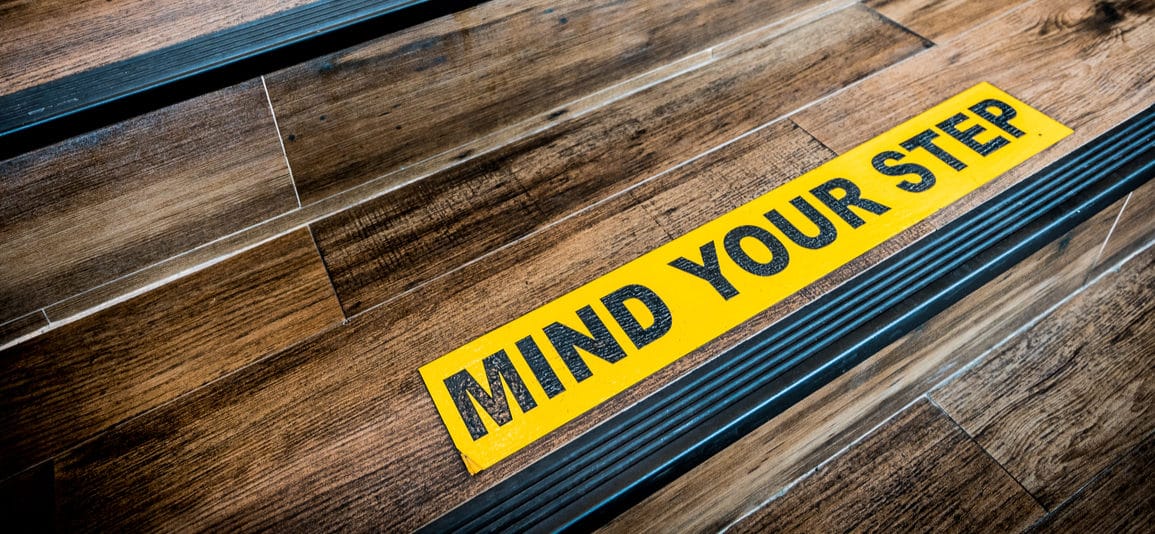 A slip and fall accident can be an emotionally and physically traumatic experience for the victim. Once the shock has subsided, it's important that you take all necessary precautions to protect yourself for the future.
CONTACT OUR PERSONAL INJURY LAWYER
The following checklist will help you understand what to do in the immediate aftermath of an accident, both at the scene and afterwards.
#1 – Inspect Surrounding Area
It's likely that your slip and fall accident happened for a reason that was no fault of your own. Before leaving the scene, take a look around for the cause. This might include spilled liquid, loose carpet, uneven concrete, or any other disruption to your footing that should not be there. Write down your version of the fall as soon as possible; a present impression of what occurred may be valuable evidence in court, or at the very least help your attorney on how to handle the potential lawsuit.
#2 – Identify Witnesses
Speak to anyone in the vicinity where the slip and fall occurred. Make sure to write down their names, addresses, and phone numbers before leaving the scene. Even if someone did not see the actual fall, he or she could, if necessary, describe what the scene looked like including the conditions of the floor, lighting, or any other factors that may have affected the accident.
#3 – Take Photos
If possible, use your cell phone to take pictures of the obstacle that caused your fall and the surrounding areas. It's likely that the hazard will be removed soon after you leave the facility and pictures may also help capture areas where a sign or notice of the dangerous condition should have been, so taking pictures directly following the accident will help strengthen your potential case.
#4 – Obtain an Incident Report
If the incident occurred in a store or place of business, then you will need to fill out a slip and fall incident report and notify a manager. Do not make an effort to talk through the accident with store management or resolve it yourself, but make sure the store is aware that the accident happened and you're injured as a result. If possible, make sure you receive a copy of the accident report and get the contact information of the employee that assisted you.
How to Write a Slip and Fall Accident Report
When you start writing your slip and fall accident report, you want to be as detailed and thorough as possible. Having the assistance of a slip and fall accident attorney near me can be helpful to make sure you don't miss any critical points.
A slip and fall accident report includes information such as dates, description of the accident, injuries, times, names, witnesses information, and other key factors of your case.
1. Get all the facts – As you prepare to write your slip and fall report, make sure you have the right information to include:
Date, time, and location of the incident
Names of everyone involved, including witnesses
Events that led up to the incident
Environmental conditions
Circumstances
Specific injuries
Damage to equipment or area
2. Explain the sequence – Based on your facts, you also want to be able to determine the course of events that led up to the incident. All of the circumstances involved in the incident, as well as the sequence of events following the incident, should be included in your explanation. Try to think back to when you first entered the location where the slip and fall occurred, up until the accident occurred. Even the smallest details can be imperative in setting the scene.
3. In-depth analysis – Make sure your report includes a detailed analysis of what caused the accident. These causes can be:
Primarily, a spill on the floor
Secondarily, something blocked your vision
Other factors, circumstances happening during the incident
Do your best to draft these details as soon as possible. Filling out an incident report immediately following a slip and fall not only increases the chances that you will not forget any details, but that the property owner can tell that you are taking your injuries seriously. As you write the slip and fall accident report, you are trying to explain:
The details of the incident
Your injuries
a property owner's negligence resulted in your fall
Having the representation of a slip and fall attorney can help you draft a report that will be successful, as well as advise you on the right plan of action to help you fight for the compensation you deserve.
To start, you can use this free downloadable slip and fall incident report form
#5 – Seek Medical Attention
Whether you feel immediate pain or not, it's important that you seek medical attention right away. You never know what injuries you suffered that you may not be able to feel yet, but that may affect your health and wellness in the future. It's always better to be overly cautious in situations like this.
On top of seeking medical aid for your personal health, it's important to obtain medical attention in writing, including a professional diagnosis of any injuries initially caused by the fall. There are some conditions that take longer to manifest, but if you have broken bones, cuts, bruises, or other apparent injuries, it's important to document when and how the injury happened while the incident is still fresh.
#6 – Let Others Know
If you have sustained an injury due to the accident, it's important that you notify others. Your family will want to know about your condition, and your employer will need to know that you might be missing work. You will want the support of your family and friends and proper documentation of missed work, so do not keep your injury a secret from anyone.
#7 – Contact a Slip and Fall Injury Lawyer
The most vital step after your accident is to find an attorney you can trust. When you contact Florida slip and fall attorneys at Weinstein legal, they will get to work on your claim right away. At Weinstein Legal, our experienced Florida personal injury lawyer will fight for your rights and help you obtain the compensation you deserve. For a free case review, fill out our contact form or call 954-845-0505 today.