Worker's Compensation Claims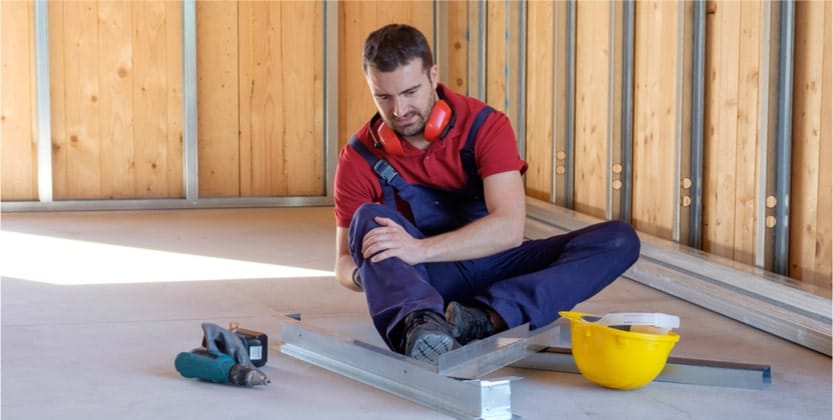 If you are hurt while on the job, it is essential that you speak with a workplace injury attorney as soon as possible. You may be entitled to compensation, however, you must act swiftly. There are statutes of limitations regarding filing a personal injury claim in the state of Florida, and the more time that goes by before you file your claim the less evidence may be available to support your case.
CONTACT OUR WORKPLACE INJURY LAWYER
Recovering from an injury, particularly if you are unable to work for any period, is a stressful and worrisome time for many. If you are looking to file a personal injury claim or lawsuit due to an injury on the job, you require the help of a legal team that will stand beside you each step of the way, easing the burden on you as much as possible. Personal injury attorney Justin Weinstein at Weinstein Legal is ready to fight on your behalf to ensure you get the compensation you deserve. Mr. Weinstein will not back down to insurance companies or accept a settlement that is less than what your case is worth. For a free case evaluation contact Weinstein Legal today at 954-845-0505.
Steps to Take after a Workplace Injury
The steps you take after suffering an injury at work are essential to proving your case. The sooner you take action the better your chances will be at receiving an adequate settlement. Follow these tips after an injury at work and always contact a workplace injury attorney as soon as you can after seeking medical treatment.
Seek Medical Treatment
Seeking medical treatment for your injury is the single most important element in your case. The sooner you seek treatment the better, both for your physical health and the strength of your personal injury claim. If possible, get care immediately. Whether you see your primary care physician, go to an urgent care center, or the emergency room at the local hospital, be sure to get documentation of your treatment.
While seeking care, be sure to let the medical professionals know the cause of your injury. Let them know where you were, what you were doing, and precisely how the injury occurred.
Notify Your Direct Supervisor
It is also essential that you make your workplace aware of the fact that you sustained an injury while on the clock. Notify your direct supervisor as soon as possible and keep documentation of this communication. In order to be eligible for Workers' Compensation Benefits, you must notify your employer of your injury, in writing, within thirty days of your accident. However, the sooner you let them know the better your case will fare.
Speak with Human Resources
After you contact your direct supervisor, make sure that your company's Human Resource Department knows about your injury as well. Do not assume that your supervisor will tell them, it is best to provide them with the necessary documentation yourself. They may have specific protocols to follow regarding documenting a workplace injury and it is essential that you follow these protocols. If you do not yet have a workplace injury attorney now is the perfect time to hire one, as they can advise you on anything to be wary of when speaking with your company.
File a Claim with Workers' Compensation
Next, you need to file a claim with the Workers' Compensation Board to ensure you receive the pay you are entitled to if your company meets state requirements for participation. Legally, your company must provide you with all information regarding filing a Workers' Compensation claim and the benefits you are entitled to as an injured employee.
As with insurance, there is a statute of limitations on how long you have to file a claim with Workers' Compensation to receive benefits. The sooner you act the sooner you will begin receiving coverage, so don't wait. Additionally, it's important to know that just because you receive benefits from Workers' Compensation does not mean that you will not be able to file a personal injury suit at a later time.
Moving Forward
After you tend to your immediate medical needs and take care of all imminent paperwork and the notification of necessary parties, there are additional steps you must take to protect the legitimacy of your personal injury claim.
Speaking with a workplace injury attorney is the best route to go, as they will advise you on what communication is and is not a good idea to have with your company regarding your injury. Remember, any communication, including e-mails, text messages, and phone calls, may be used as evidence later in court. Your attorney may advise you not to speak with your company without them present. They may also advise you not to post on social media about the accident, or not post public remarks about your organization.
As you move forward through your personal injury case, it is essential that you follow all doctor's orders and keep all appointments.
Proper Documentation
Keeping proper and precise documentation will be vital to your case. Keep all medical bills, pharmacy receipts, receipts for medication, and any medical files you have that detail your injuries and prognosis. Additionally, document all of your lost wages and any further costs you incur. The more documentation you have supporting your case the better your settlement will fare. Provide all of this paperwork to your workplace injury attorney so that they can review the facts to properly evaluate your case.
Common Workplace Injuries
According to the United States Department of Labor Occupational Safety and Health Administration (OSHA), there are four workplace injuries that account for the majority of accidents on the job.
The most common workplace injuries include:
Slips and falls
Being struck or hit by a falling or moving object
Electrocution
Injuries resulting from getting caught either on another object or between two separate objects
However, there are millions of workplace injuries each year in the United States and yours may not fall into one of these categories. There are still legal processes in place to protect you, however, you should seek the help of a workplace injury attorney to maximize your settlement.
Filing a Claim for an Injury at Work
When you file a claim for a workplace injury, there will be lots of paperwork to complete. Not only will you need to likely complete paperwork for your Human Resource Department, but you will also need to complete paperwork for your health insurance company, the Workers' Compensation Board, and possibly for short-term disability benefits. Having an experienced workplace injury lawyer on your side is crucial during this time.
If you are filing for Workers' Compensation, there may be a hearing you have to attend where the Board reviews the facts of your case. A representative from your employer's office will likely be present. As these hearings may determine whether or not you receive financial benefits to help cover the cost of your injury, as well as lost wages, having a workplace injury lawyer represent you throughout the process is key.
Schedule Your Free Consultation
With three offices in South and Central Florida, we are ready to represent you in your quest for compensation. Here is the contact information for our offices:
If you sustain an injury on the job, contact workplace injury attorney Justin Weinstein at Weinstein Legal today for a free case evaluation. Mr. Weinstein will review the facts surrounding your case and advise you on the proper next steps. Consultations are always free of obligation at Weinstein Legal and our phones are open 24-days a day, 365-days a year. Call 954-845-0505 today.