You've Lost Enough - You Deserve More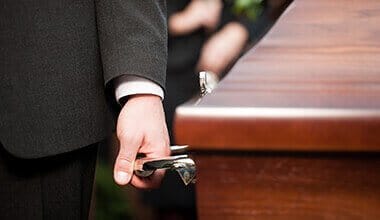 The unexpected death of a loved one can have a devastating impact on family and friends. The loss of emotional and financial support can be overwhelming for immediate family members.
Although a wrongful death lawsuit cannot undo this loss, it can help ease the financial burden that is often left behind. A wrongful death claim may be filed if your loved one's death was caused by someone else's negligence.
An effective wrongful death lawyer in Florida from Weinstein Legal can help you recover damages for the death of a loved one.
To learn more about your legal options, fill out our contact form to begin your consultation.
CONTACT OUR WRONGFUL DEATH LAWYER
Types of Wrongful Death Claims
Negligence leading to wrongful death may arise in all sorts of tragic accidents and situations. A wrongful death lawsuit may be filed if the victim's family believes the death was the consequence of carelessness or negligence, and are able to prove this claim.
Some types of wrongful death claims include:
Motor vehicle accidents
Accidents at work
Defective products
Dangerous prescription medications
Boating accidents
The sudden loss of a loved one is one of the hardest experiences anyone can go through. Filing a claim is often the last thing on a person's mind after their loss. Unfortunately, there is a limited timeframe in which a person can file a wrongful death claim, which is why it is important to consider this option.
Consult an experienced wrongful death attorney near you about your legal rights.
Fill out our free case evaluation form or call 954-845-0505.
Types of Wrongful Death Damages
No amount of compensation can bring back your loved one, but recovering damages can ease the financial burden of funeral expenses, lost income, medical expenses, and more.
Damages families may be entitled to after a wrongful death case can include:
Loss of income
Funeral and burial expenses
Medical bills
Loss of benefits, such as insurance
Mental anguish
Loss of companionship
In cases of gross negligence or intentional acts that contributed to the wrongful death, punitive damages may be awarded.
A compassionate Florida wrongful death lawyer will be mindful of the hardships families face after the death of a loved one. Using extensive knowledge of wrongful death claims, our law firm can help you fight for the fair compensation you deserve.
Fill out our contact form to get started.
Who Can File a Wrongful Death Claim?
In Florida, immediate family members can file a wrongful death lawsuit seeking compensation for a wrongful death. Immediate family members include a spouse, children, and adopted children. Family members, such as parents or guardians of the estate, may also be eligible to file a wrongful death claim.
If you are unsure if you are entitled to file a wrongful death claim, contact a knowledgeable wrongful death attorney at Weinstein Legal. After discussing the specific circumstances of your situation, we can determine if you can file a wrongful death lawsuit.
In order to demonstrate that you have a valid claim, the following elements are required:
The individual had a duty of reasonable care to the deceased
The individual breached that duty
The individual's actions led to the death
The death led to monetary and emotional damages
Recovering damages requires having a skilled and knowledgeable wrongful death lawyer on your side.
Contact a Florida Wrongful Death Attorney
The team of personal injury attorneys at Weinstein Legal will handle your case with professionalism and compassion. After determining if you have a personal injury claim, our experienced wrongful death attorney will build a strong case that will help you obtain the compensation you deserve after such a devastating loss. Additionally, we will work to hold the person responsible accountable for their negligence.
Contact us at our Orange, Palm Beach, or Broward offices to schedule a free consultation to determine if you are eligible to file a wrongful death claim: