File For A Restraining Order or Defend Against One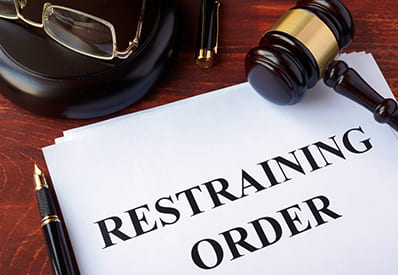 File A Restraining Order
Defend Against A Restraining Order
How To File A Restraining Order
In order to file a restraining, you must be able to prove that you have reasonable grounds to fear for the safety of yourself as well as the safety of any child that you have custody of.
If you are looking for how to fight a restraining order or injunction, you need an experienced criminal defense team on your side. To speak privately to our experienced Restraining Order Lawyer, call 561-931-6687 for a free case evaluation.
On your day in court, the opposing party will have to establish that you are a threat to them or their children, that you have committed violence against them, or are stalking them. Having an attorney who has represented countless individuals in restraining order cases, with a background as a criminal defense attorney, will provide you with a qualified and experienced attorney fighting for you.
Knowing how to defend you in these types of cases, proving to the courts that accusations are untrue, is essential.
Injunction vs Restraining Order
People often use the terms injunction and restraining order interchangeably. In the state of Florida, the official legal term is an "injunction for protection." When people talk about how to fight a restraining order, they are referring to the term injunction. You may also hear the term "order of protection," which also refers to an injunction.
In the state of Florida, there are four types of orders of injunctions for protection against violence. These include:
Injunction for protection against domestic violence
Injunction for protection against repeat violence
Injunction for protection against dating violence
Injunction for protection against sexual violence
An individual may also file for an injunction if they are being stalked or if they are being harassed via phone, text message, or other online communication. Individuals need to show proof of harassment by telephone or cyber-stalking.
If you know that they cannot do so, it is even more imperative that you hire a restraining order defense attorney to guide you through the process of how to fight a restraining order.
Petitioner
To retain an Injunction Attorney with courtroom experience, contact Matt Shafran at Weinstein Legal today at 561-931-6687. We will help you get the restraining order you deserve and need for your own protection.
Hire A Former Prosecutor And Trial Attorney
When filing for a restraining order, it is imperative that you are represented by an experienced and competent attorney throughout the process. This way, you ensure that all legal criteria for the filing process are properly followed.
Following a traumatic or violent event, you can trust that we will help you to achieve an injunction, or restraining order, against the individual who harmed you. We also will defend you if someone is seeking an order of protection against you. Contact us today to get started.